It's Saturday morning today!
You got up pretty early today and need to wait a bit before the departure of the bus to the Mont Saint-Michel? Then Saturday market could be the perfect thing to do while waiting!
Saturday market in the morning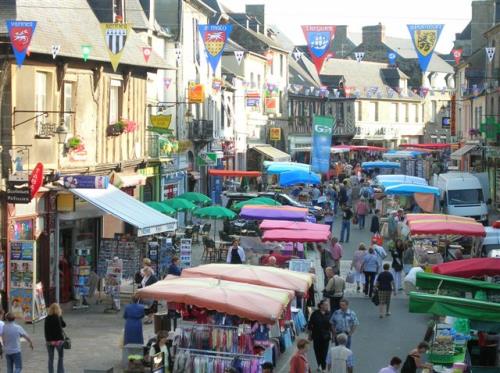 From 8 AM to 1PM on Saturday, you will find the local market of Dol de Bretagne around the main street. It's one of the best market in the area according to locals, and you'll find foods, fresh products, clothes… Everything!
I always take some galette saucisse on the way, it's one of the most classical food in Brittany! Then just hang around in the market, have a look on seafoods shops, pastrys stands (you may want to try the Breton dessert, Kouign Amann?), the handmade items…
Do not forget to look for the products that farmers are selling here! You sure don't want to miss certified organic food 😉 Especially the cheese and bread which are just delicious!
There's the famous Breton Hot Dog; Galette Saucisse!
As usual in Brittany, the most important thing is to chill out! Don't rush yourself in the market, take your time and enjoy walking around, smelling the fresh products from locals, listening to people while sitting in a terrasse, drinking a coffee… More than the French way of life, try the Breton one!
Let's go back to the past…
Why Dol de Bretagne market is that famous in the area (and actually why local markets are popular in France)?
As you can see on the picture, Saturday market in Dol de Bretagne is a tradition coming from ages. Breton people enjoyed going to the market and buy food for the week or just meet some friends! All farmers were coming to sell there products and it was a good place for bargaining best prices. It was also the best way to spend time during Saturday morning since it was the main entertainment of the day.
Talking about time flying, be carefull not to spend too much at the market if you don't want to miss the bus for Mont Saint-Michel 😉
Where to eat: Well, everywhere! Our best: just grab a galette saucisse!
How to go there: From Eddhostel, just go trought the tunnel, cross the train station. Exit opposite side and turn right. Then, always straight. You won't miss it!
USEFULL LINKS:
My rate 4/5

Activities, Bretagne, Dol de bretagne


In: 1/2 day trip, Very favorite